Jean-Charles Garrivet
Virtual Tour Photographer
MAKE YOUR GUESTS DREAM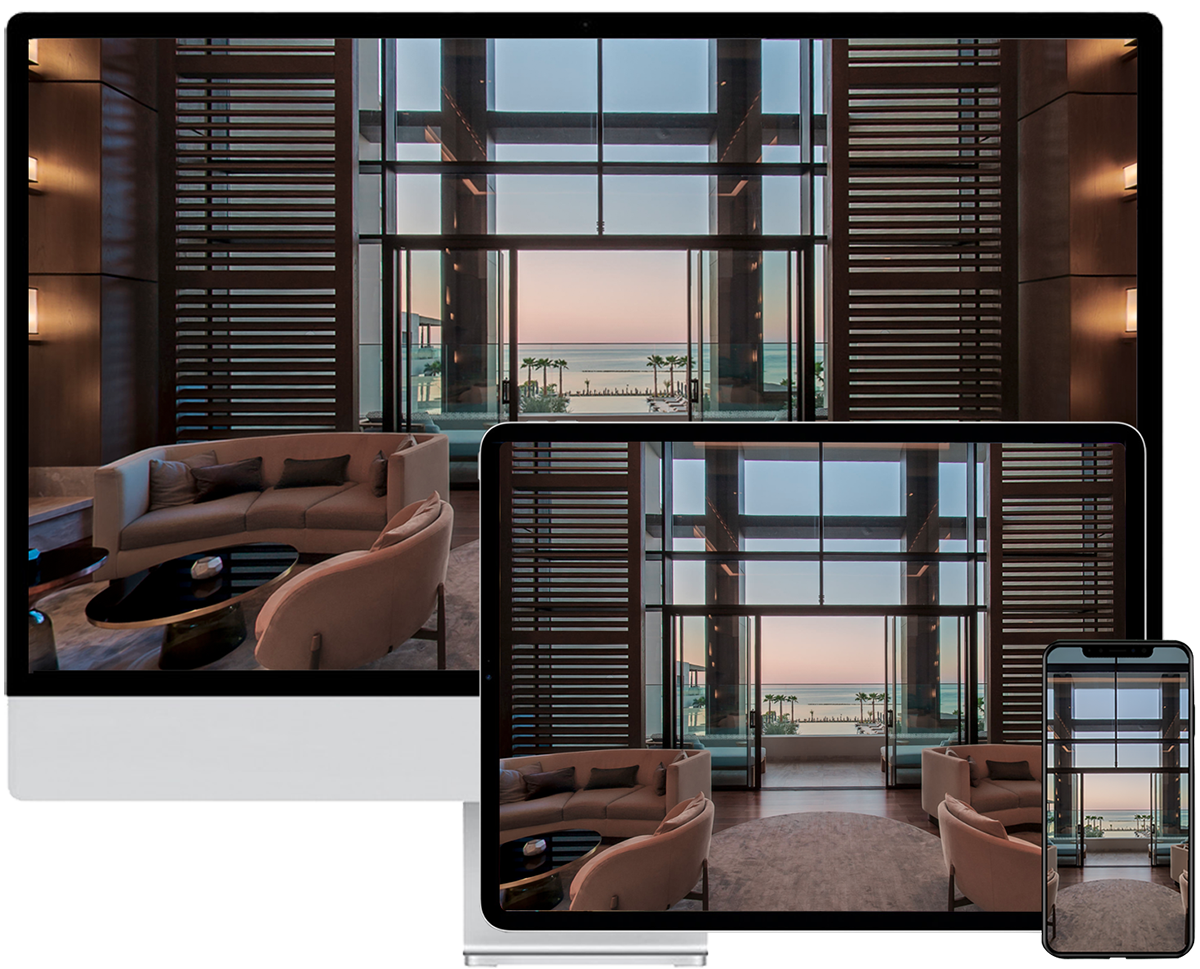 ENHANCE YOUR HOTEL 'S VISIBILITY ACROSS ALL PLATFORMS
Immerse potential guests in your spaces using cutting-edge 360-degree technology, accessible from any device and location.
Enhance your marketing strategy by integrating these virtual tours, providing an extraordinary and interactive journey into your environment.
Break through geographical barriers, align with the digital transition, and share this captivating experience on your social media platforms.
Capture attention, drive engagement, and turn curiosity into customer enthusiasm!
VIRTUAL TOURS DEDICATE TO THE HOTEL INDUSTRY
Being a photographer based in Lyon, France, I boast a decade's worth of experience in crafting advertising visuals.
My ardor for precision and my aspiration to craft aesthetically pleasing encounters naturally steered me towards the realm of 360-degree photography and virtual tours.
Presently, my primary focus centers on generating virtual tours tailored for the hotel industry. I firmly believe in the capacity of these tours to shape visitors' decisions
long before they physically arrive. The caliber of the online presentation proves pivotal within this swiftly expanding market.
I extend an invitation to explore the marketing prospects embedded in virtual tours alongside me, all while upholding the genuine essence and atmosphere of each unique locale. I augment the experience with an immersive facet through 360° animation and scrupulous post-production refinement.
As a duly certified Google photographer, I possess the capacity to adapt any visual content for social media, thereby expediting your communication efforts
and enhancing your online visibility.
BOOK YOUR DEMO
We present an online demonstration that showcases the diverse benefits of the comprehensive marketing solution we provide across various communication channels.
BOOK NOW
GOOGLE VIRTUAL TOUR STATISTICS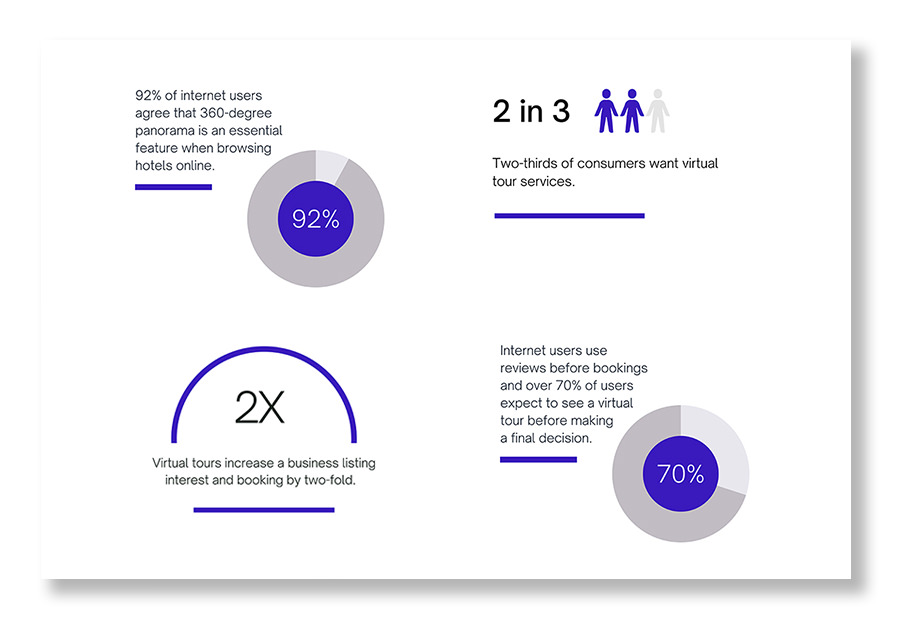 WHY OUR VIRTUAL TOUR ARE TRUSTWORTHY ?
CONNECT BETTER WITH YOUR GUESTS
Are you looking for a powerful way to showcase your business and give potential guests an immersive experience?
Look no further than our Comprehensive Virtual Tour Marketing Solution!
This comprehensive solution is designed to help you showcase your products or services in the best possible light, providing potential guests with an interactive experience that they won't forget.
Don't miss out on this opportunity to take your business to new heights.
Simply click on the attachment and start exploring all that our virtual tour marketing solution has to offer.
We're confident that you'll be impressed with what you see!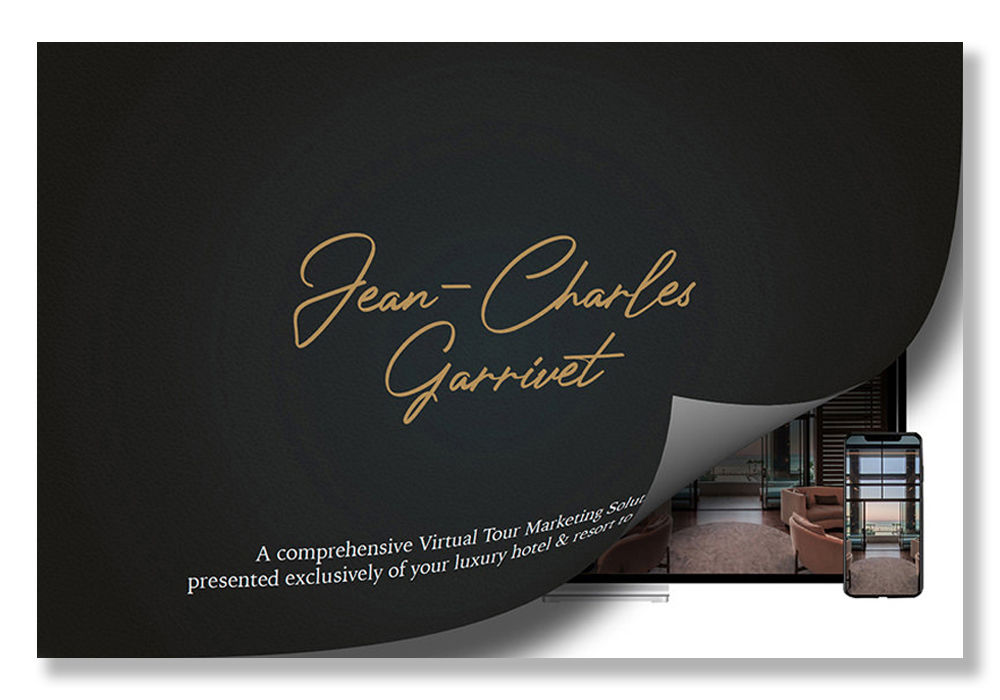 VIEW OUR INTERACTIVE GUIDE
We present an interactive online guide that highlights the various benefits of the complete marketing solution we provide across different communication channels.
OPEN BROCHURE
GOOGLE TRUSTED PHOTOGRAPHER
Working with Google-trusted photographer simply means you are partnering up with the reliable photographer whom is able to provide the immersive and interactive virtual tour experience to its users and audiences, to explore surveying the ambiences, interior designs, decorating styles and so on, of restaurants, resorts, amusement parks and more, authentically online before paying a visit or booking.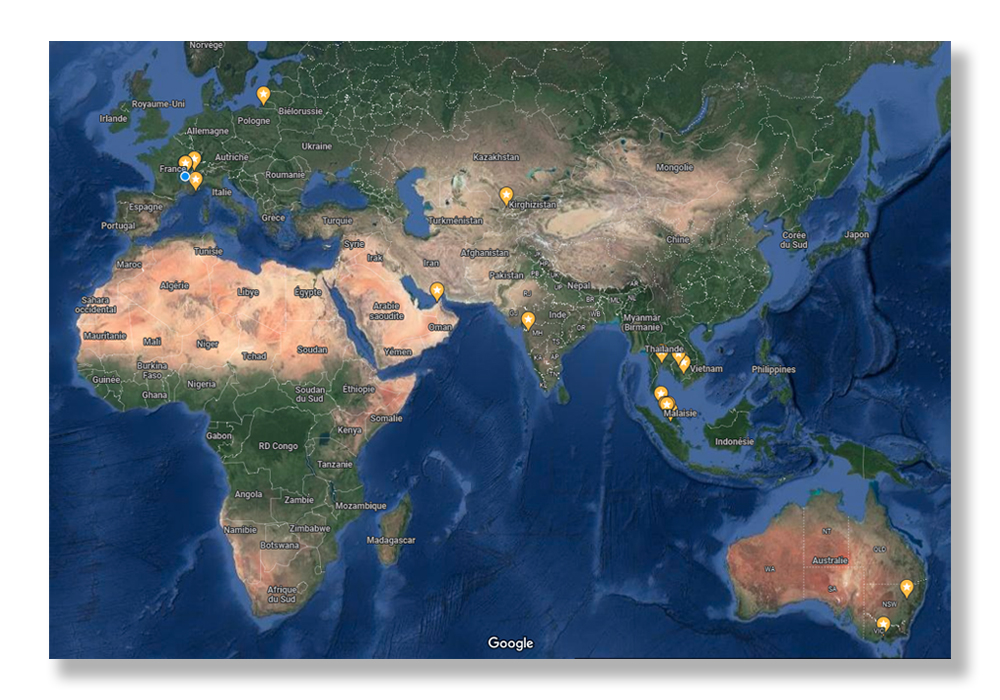 Click on the image to open a tab with the Google Maps profile.






















The Chedi AlBait Sharjah

I had the privilege to work with Jean-Charles and I must say his work ethics and technical skills in virtual tour photograpy are excellent.
Professional in every way and the results are just outstanding!
Khristel Encarnacion – Marketing Executive
The Chedi Al Bait Sharjah

Jean-Charles knows how to visually capture the best angle of 360 shot. Jean-Charles and Pascal are a professional team, working with them is a true pleasure, their work is an ideal example of beautiful high-quality, professional photography. Jean-Charles makes incredible shots by combining creativity, knowledge and esthetic view about the use of natural lighting, latest technology and the talent for creating 360 photos. I am looking forward to our future projects!
Tetyana Polunina – Director of Marketing
Le Domaine de Gorneton

Nous avons fait appel à ses compétences pour la mise en valeur du Domaine de Gorneton et ses chambres d'hôtes.
Professionnel et compétent il sera jouer des angles de vues, s'adapter à l'exposition et aux conditions lumineuses et surtout vous faire bénéficier une grande expérience dans la mise en scène photographique. Très compétitif dans le traitement d'images et le rendu de votre projet, ses photos vous ferons voyager le temps d'un cliché et ses visites virtuelles vous transporterons littéralement…Une recommandation toute particulière également sur l'individu pour ses qualités humaines qui ne demande qu'a être connu et reconnu.
David Renaud – Directeur General
Aquarium de Lyon

Nous avons fait appel à Jean-Charles pour la réalisation de vidéos 3D des salles d'exposition des bassins à l'Aquarium de Lyon. Notre souhait était de pouvoir présenter de manière digitale nos espaces de séminaire, retranscrire la magie dégagée par nos pensionnaires. Objectif largement atteint avec le professionalisme, la réactivité, l'écoute et l'enthousiasme de Jean-Charles pour notre univers. N'hésitez pas à lui faire confiance !
Murielle Meynard – Responsable commercial
Hilton Evian Les Bains

Jean-Charles est un photographe très professionnel.
Analyse des lieux avant la réalisation et la prise de photos.
Pointilleux sur chaque détail, un réel atout, surtout dans le monde de l'hôtellerie.
Résultats des visites virtuelles : magnifique !
Je vous recommande ses services.
Mahilde Pruvot – Responsable Marketing
Courtyard Marriott Siem Reap

The team is a perfect combination! From the beginning through to the end, they offered endless support and guidance to match our expectations and demands.
Their experience and professionalism shines through, allowing our brand voice to be perfectly captured. We definitely recommend them to any high level photography !
Lenen Mar Porras – Responsable Marketing
Cirque Imagine

Jean-Charles GARRIVET réalise de très belles visites virtuelles, nous avons été enchantés par son travail! En effet la visite virtuelle a apporté un réel plus au site internet et permet dorénavant aux prospects de visiter notre lieu depuis le monde entier ! Je recommande vivement…
Marion Guinamand – Responsable Communication
HOTEL VIRTUAL TOUR & OTHER ACTIVITIES
Contact us today and let us show you how we can help you showcase your facility\\\'s unique features and breathtaking views.
CONTACT US